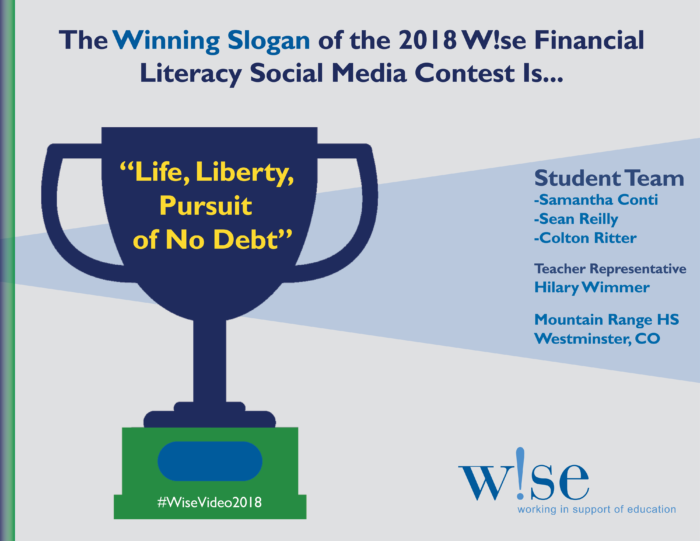 Here are the top 10 videos from across the nation (in no particular order)
The W!se Financial Literacy Slogan Contest
The W!se Financial Literacy Slogan Contest ("Contest") is a competitive contest in which high school students are invited to create a
A financial literacy slogan. The slogan should be an original, short (six words or less) and creative, and inspire people of all ages to improve their knowledge of personal finance AND
A compelling video explaining, in sixty seconds or less, why everyone needs to be or should be financially literate.
For this Contest, "financial literacy" is the ability to use knowledge and skills to manage personal finances effectively for a lifetime of financial well-being. It includes understanding/making appropriate decisions related to budgeting, saving, spending, borrowing, investing, insurance, real estate, paying for college, retirement and financial planning.
The Contest is sponsored by W!se with funding support from the Financial Services Roundtable (FSR).
Contest Period and Deadline
The Contest opens on Thursday, February 23, 2018 at 12:00 am EST ("Opening Date") and closes on Friday, March 30, 2018 at 11:59 pm EST ("Closing Date"). Any entry received before the Opening Date or after the Closing Date will be automatically disqualified.
Eligibility
Students who are enrolled in high school anywhere in the United States may enter the Contest ("Contestant"). A Contestant is defined as one student or a group of students up to a maximum of four (4) students. The entries of a Contestant should be submitted by a teacher at the Contestants' school ("Teacher"). Any entry submitted by a Contestant will be automatically disqualified.
Teachers need to secure parental/legal guardian consent for Contestants who are under the age of eighteen years old on the Opening Date.
Entries
To enter the Contest, Contestants should create a slogan AND a video ("Entry"). Entries that do not include both will be automatically disqualified.
Each Contestant may submit only ONE Entry. Each Teacher may submit an unlimited number of student Entries.
Judging Slogans
The winning slogan will be selected by judges who will use a rubric developed by W!se to review and score the slogans submitted.
Announcement of Winning Slogan
The winning slogan will be announced via Facebook on Monday April 30, 2018 at 9:00 am EST.
Prize for Winning Slogan
The Contestant with the winning slogan will receive a $1,000 cash prize. The Teacher representing the Contestant with the winning slogan will receive a $500 prize.
The winning Contestant and Teacher are responsible to report and may need to pay tax on their cash prizes.
Publication of Videos
W!se will select and post a sample of the most compelling videos on its Facebook and Twitter accounts and on its website (www.wise-ny.org). These videos may also be distributed nationally by the Financial Services Roundtable (FSR) and by W!se. The purpose is to build awareness about the importance of financial literacy.
Entry Requirements 
 a. To submit an Entry, Teachers should:
A separate Entry Form should be completed for each Contestant. Any Entry that does not include an Entry Form will be automatically be disqualified.
Submit Entries through Facebook. Each Entry includes a completed Entry Form and the Contestant's Video. There will be space on the Entry Form to enter the Contestant's slogan.
To Upload an Entry go to Facebook:
Log into Facebook. If you don't have a Facebook account, please create one.
Once on the W!se Facebook page, click on "Send Message." The "Send Message" option appears on the right side halfway down the page. A chat window will then appear.
To upload an Entry Form, click the paper clip icon at the bottom of the "send message" chat window. Locate the entry form file on your computer and click "open." The file will upload and send to W!se
Next, to upload a video file, click the paper clip icon at the bottom of the "send message" window. Locate the video file on your computer and click "open." The video will upload and send to W!se.
Agree to abide by the Rules. The Rules are a binding legal agreement between Teachers, Contestants and W!se in connection with the Contest. By signing an Entry Form, therefore, Teachers represent that:
They consent to and agree with the Rules
Contestants whose Entries they submit have consented to and agree with the Rules
If any Contestant whose Entry they submit is under the age of eighteen on the Opening Date, they have secured permission from the Contestant's parents or legal guardians for the Contestant to participate in the Contest in accordance with the Rules.
b. Video Requirements and Conditions
Video entries should begin with a 10 second full-screen "title screen" that includes the following information:
Student Entry Number (up to four digits)
School name
School city, state
Title of video
Videos can be a drama, animation, musical, documentary or comedy. Videos submitted by Contestants must be in English and be sixty (60) seconds or less in length (not including the 10-second title screen) and no more than 300 MB in size. Any video in a different language or one that exceeds either the maximum length or size will be automatically disqualified. Teachers should use one of the following digital formats to upload videos to Facebook: MOV, MPV, WMV or AVI.
By submitting their videos to W!se, Contestants represent that:
They own all rights to the video including the performances and any music contained therein
Any person appearing in the video is the Contestant or has granted permission to the Contestant to appear, and in the case of any person under eighteen years old, the permission of his/her parent or legal guardian
They have not violated any laws when making the video
The video is original, does not contain inappropriate language, and has not been previously produced for any other purpose, including entry into a different contest
Contestants also agree to grant W!se an irrevocable license. The license means that Contestants waive all rights of privacy, intellectual property, publicity and any other legal rights relating to the video.  The license also means that W!se may store, copy, post, publish, broadcast, distribute, reproduce, transmit and edit the video and may use and reuse the video including the information contained on the title screen.
Videos will not be returned to Contestants.
c. Slogan Requirements and Conditions
Slogan ideas submitted by Contestants must be original, in English and be no more than six (6) words in length. Any slogan in a different language or one that exceeds six words will automatically be disqualified. Upon submitting their slogan ideas to W!se, Contestants agree that the slogan will become the property of W!se and W!se will have all and full rights of ownership to the slogan. Contestants further acknowledge and agree that W!se will feature the winning slogan on a t-shirt, which will be offered on the W!se website and that W!se will use the winning slogan to reinforce the importance of financial literacy in its marketing and promotional materials.
Slogan ideas submitted are a representation by Contestants that the slogan is original and that there is no existing trademark for such original slogan. If an existing trademark exists, the Contestant's submission will be disqualified. However, the indemnification provision (see Section 10 of these rules) shall remain in effect for such disqualified candidate.
Other 
Contestants and Teachers shall indemnify, protect, save, defend and keep harmless W!se, its agents and employees (the "Indemnified Persons"), on a net after-tax basis, from and against any and all liabilities, obligations, losses, damages, penalties, claims, suits, demands, costs, expenses and disbursements (including legal fees and expenses) of any kind and nature whatsoever ("Claims") that may be imposed on, incurred by or asserted against any such Indemnified Person, whether or not such Indemnified Person shall also be indemnified as to any such Claim by any other person, arising from any act or omission by Contestants or Teachers and/or any person for which the Contestants and Teachers are answerable.