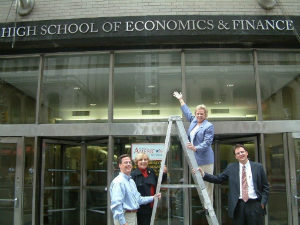 Phyllis Frankfort Perillo founded W!se to expand educational support for secondary students with a mission to improve financial literacy and readiness for college and careers. W!se's programs make a difference in the lives of students, primarily in low-to-moderate income communities. Building on its success, W!se has expanded geographically and introduced new programs and initiatives:
---
---
Built the Library and Technology Center, a state-of-the-art library for the High School of Economics & Finance in New York City.
---
Helped the Delegation of the European Union to the U.S. launch the Euro Challenge and became its national coordinator, now in 15 states.
---
Offered our Financial Literacy Certification program outside New York State; the program is now offered in 48 states.
---
Created MoneyW!SE, designed to serve the personal finance needs of at-risk adults, primarily survivors of domestic violence.
---
Launched a Certification exam for personal finance instructors; this exam is now administered in 35 states.
---
---
Created EGE (Engineered Green Economics), a STEM program for high school students to develop their knowledge about economic sustainability.
---
Building Capacity
W!se is a national partner of the Jump$tart Coalition for Personal Financial Literacy and, since 2003, we have managed the New York Financial Literacy Coalition, the New York State Jump$tart affiliate. The Coalition's goal is to promote and advocate for K-12 financial education.