Each year, W!se's Quality of Life INNOVATIONS (QLI) program culminates in an awards ceremony to honor the top participating students.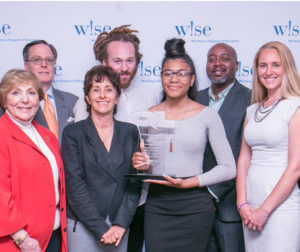 Event Details
---
May 30, 2019
During the ceremony, competition finalists display their passion for civic engagement and social entrepreneurship by sharing their vision for change. The scholarship-winning proposals are also announced. Inspirational Leadership Awards are presented to outstanding community leaders and volunteers.
For more information about the program, please visit our Quality of Life INNOVATIONS page.
Media Contact:
Mary Jo Rohrer
Phone: 212-421-2700
Email: mjrohrer@wise-ny.org
227 E. 56th Street, Suite 201, New York, NY 10022